Key Topics
This digital marketing section of the Salesforce Marketing Cloud Administrator exam, makes up 13% of the overall exam, ~8 questions. This section of the exam tests these topics.
• Security best practices for data
• Product offerings
• Digital marketing compliance
This unit provides a number of interactive, real-world, scenario-based questions that are a lot like the ones you'll encounter as a Salesforce Marketing Cloud Administrator.
Trailhead Modules:
https://trailhead.salesforce.com/en/content/learn/modules/marketing-cloud-admin-certification-prep-marketing-channels-maintenance/study-up-on-digital-marketing
https://trailhead.salesforce.com/content/learn/modules/mrkt_cloud_studios_builders
https://trailhead.salesforce.com/en/content/learn/modules/contact-deletion-in-marketing-cloud?trail_id=administer-marketing-cloud
CAN-SPAM Requirements
The CAN-SPAM act requires that Commercial emails, whose primary purpose is to deliver commercial content, meet the following criteria:
Accurately identify the sender in the header information.
Use a subject line that accurately represents the content of the email.
Identify the message as an advertisement, unless you have express consent (opt-in) from the subscriber.
Include your physical mailing address.
Provide a mechanism to opt out. You cannot require a subscriber to log in or visit more than a single page to unsubscribe.
Honor opt-out requests promptly. You must process an unsubscribe request within 10 days, and your unsubscribe mechanism must be operational for at least 30 days after the mailing.
IP Warming
Largest ISPs and webmail providers recommend that you build up a sending reputation on any new IP address by slowly and methodically sending in small volumes, then gradually increasing your volume of desirable mail to their users. This sending reputation is referred to as the warming or ramping up of your new IP address.
Focus on sending to your most active and engaged subscribers during this critical period.
Splitting large, non-time-sensitive sends over various days
Splitting campaigns between a new Marketing Cloud IP address and your legacy mail system
Migrating over smaller-volume, triggered campaigns to Marketing Cloud before larger marketing programs
Creating non-time-sensitive campaigns (for example, subscriber surveys) to use specifically for ramping up new IP addresses
Salesforce platform has no way to automatically create warmed IP addresses.
Segment by domain if possible — specifically for AOL/Yahoo/Verizon domains. Main domains are: aol.com, aim.com, yahoo.com, ymail.com, verizon.net
For other segments, don't focus on ISP, but focus on subscriber engagement or recency.
Personally Identifiable Information
Personally identifiable information, or PII, is any data that could potentially be used to identify a particular person. Examples include a full name, Social Security number, driver's license number, bank account number, passport number, and email address.
Sender Reputation
Field Level Encryption
Marketing Cloud encrypts sensitive data using a cryptographic symmetric key generated via Encryption Key Management.
Provide both a key value and an initialization vector (IV) when using encryption keys.
Field-Level Encryption also permits importing encrypted data into Marketing Cloud.
You can't share encrypted data or encryption keys across business units.
You can encrypt data using only data extensions created through Contact Builder.
Data extensions can store encrypted text or email address data.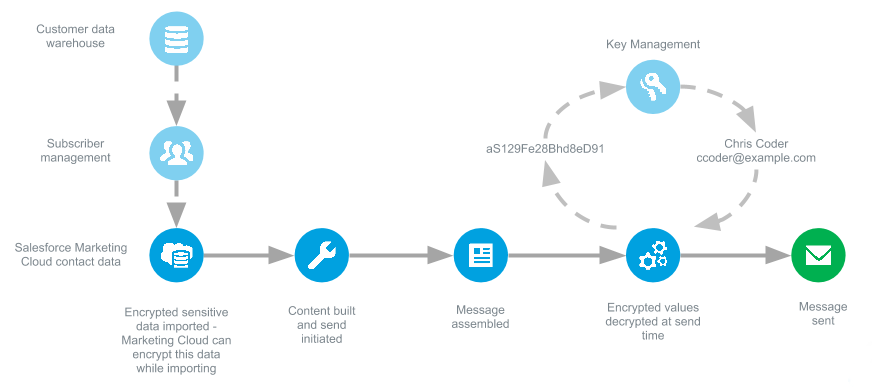 Tokenized Sending
Use Tokenized Sending to send contact data that is too sensitive to store in your Marketing Cloud account database. You can take information from your own data systems and transmit it to the Marketing Cloud only at send time via an API call.
Data at Rest Encryption
Data at Rest Encryption encrypts the underlying files stored in the file system. This feature is transparent to Marketing Cloud and does not impact any application-level feature. Use this feature to help meet your compliance and regulatory needs without modifying existing application code. This feature protects against scenarios such as stolen physical media that contains sensitive data. In this case, the malicious party cannot simply restore and browse the data.
Marketing Cloud Products
In Social Studio you can:
Plan and publish social marketing campaigns.
Listen to and analyze social media conversations to monitor your social media presence.
Use social with Sales Cloud and Service Cloud.
Control content publishing with approval rules.
With Interaction Studio, you can:
Capture insights on every owned channel to manage real-time customer interactions.
Coordinate engagement everywhere by connecting online digital interactions to offline moments.
Visualize the customer lifecycle and optimize the path to purchase across lifecycle stages.
Get suggestions for the next-best experience for the customer.
In Mobile Studio you can:
Deliver time-sensitive messages such as account alerts and appointment reminders.
Target on-the-go customers with location-based push marketing.
Drive mobile app engagement to keep customers coming back.
Use personalized data stored on the customer success platform to have a single view of the customer.
Create and edit mobile messages in Content Builder, without having to leave Journey Builder.
Mobile Studio features mobile messaging tools, including:
MobileConnect to create and send text messages (SMS and MMS)
MobilePush to create and send automated, interactive, or scheduled push messages from mobile applications
GroupConnect, or Chat App Messaging, allows brands to create 1:1 conversations on group messaging apps (LINE) using rich customer data
https://trailhead.salesforce.com/content/learn/modules/mrkt_cloud_studios_builders
Help Documents:
Additional Resoucres:
https://trailhead.salesforce.com/content/learn/modules/marketing-cloud-admin-certification-prep-marketing-channels-maintenance/study-up-on-digital-marketing
Links to other topics: