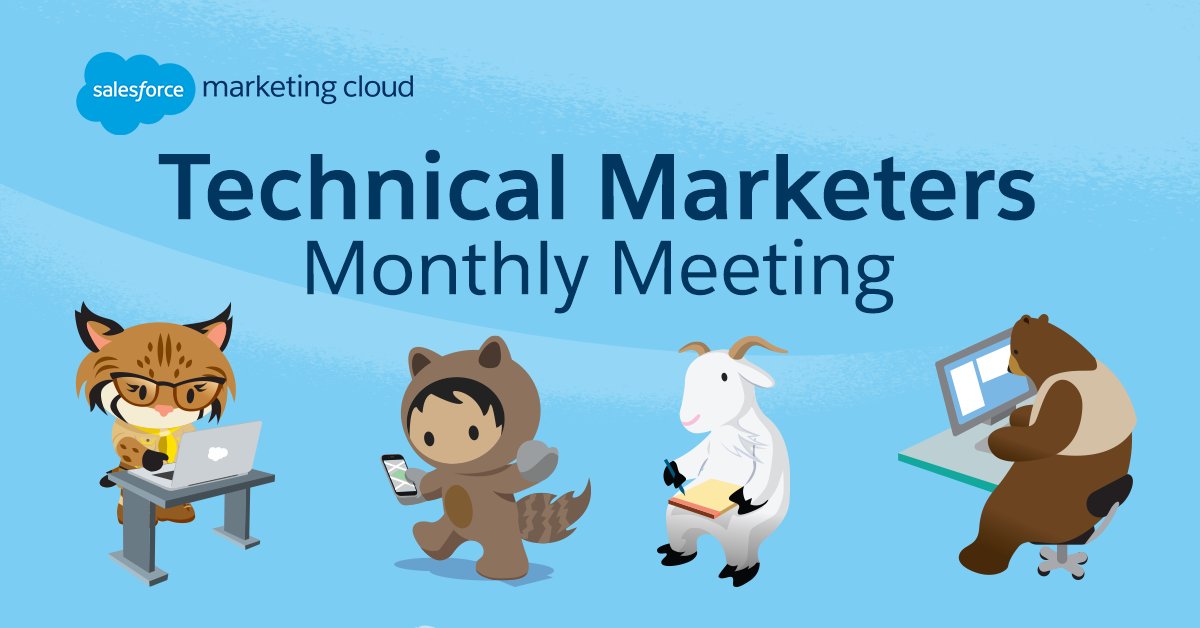 Last updated: June 9th, 2021
Salesforce Marketing Cloud conducts bi-monthly Technical Marketers Meeting with technical experts where they share the latest and key features, best practices, use cases and walk through demos. It is intended for any one in the Marketing domain: Administrators, Developers, Architects, Channel Marketers, Partners. Thanks to Guilda for facilitating these sessions.
Free to attend and also a great opportunity to discover the latest/key features directly from the Salesforce's technical experts, explore it live thru walk through demos and get our questions answered.
I personally have benefited so much from these meetings by gaining deep insights directly from the Salesforce's product experts. Compiling a list of all the past webinars, recordings, related blog posts and other additional resources so it can be helpful for those who missed the past webinars.
Journey Builder: Custom Activities – 04/23/2020
MC Deliverability 201: Domains, IP Address, Authentication & More – 05/14/2020
Distributed Marketing: Best Practices for Implementation and Deployment – 05/28/2020
Technical Overview of Interactive Email Forms – 06/11/2020
Product Expert: Matt Schmitter
Blog Post by Jyothsna Bitra
SMS Deep Dive – 06/25/2020
Product Expert: Kevin Ryan
Blog Post by Jyothsna Bitra
Journey Builder: Path Optimizer – 07/09/2020
Product Expert: Rob Everetts, Bill Jennings and Matthew Hager
Blog Post by Jyothsna Bitra
Social Studio: Technical Deep Dive- 07/23/2020
Product Expert: Leigh Price and Nick Clark
Blog Post by Esha
Content Builder Block SDK – 08/06/2020
Product Expert: Bobby Wilkes and Jenny
SMS Deep Dive – 09/02/2020
Product Expert: Kevin Ryan
Einstein Engagement Frequency and Scoring – 09/10/2020
Product Expert: Ajaay and John
Deep Dive of Interaction Studio – 09/17/2020
Product Expert: Andy Zimmerman, Max Ebb, Dan Cohen and Katie Wheeler
Marketing Cloud Security Suite – 10/01/2020
Mobile Push and Geolocation – 10/15/2020